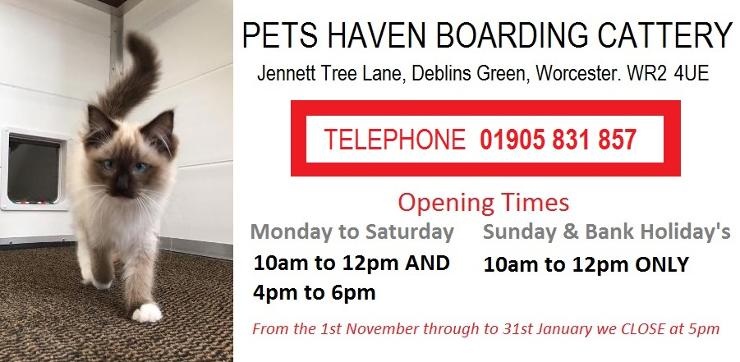 If you would like to be considered to be included within our links page, please e-mail through to nigel@petshaven.co.uk. A link to our website from your website would also be appreciated.

Pets Haven Cattery is registered with Avenue Vets, who have treated reated domestic pets, horses, small holdings and exotic species. Their experienced team is dedicated to being at the forefront of veterinary medicine and surgical expertise, which means they can offer your pet the most up-to-date and effective treatments.
The Gables, 17 Avenue Road, Malvern, Worcestershire, WR 14 3AY.
Telephone: 01684 572 420.
We now run two centres, the main surgery in Upton-upon-Severn and a branch surgery at Lower Wick, Worcester.
Why use The Stocks Veterinary Centre?
A wide range of services at competitive prices
A range of treatment options and choices enabling you to make the best decision for you and your animal
School Lane Upton-upon-Severn Worcestershire WR8 0LF
Manor Farm Lower Wick Worcester WR2 4BS
Brentknoll specialise in
family pets and small animals. Along with your lovely dogs and cats, they care for rabbits, hamsters, guinea pigs – as well as rats, mice and ferrets.
Whittington Road, Worcester, Worcestershire, WR5 2RA.
Telephone: 01905 355938