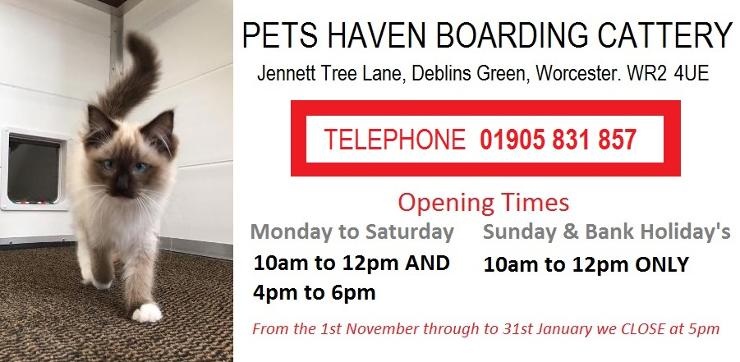 It's great for us to tell you a little about the team at Pets Haven Boarding Cattery

Pets Haven Cattery has been established for 30 years and Nigel and Tracie purchased the cattery back in February 2015 from Malcolm who used to run the cattery with his late wife previously.

Nigel is from Cardiff and a big Wales rugby fan, Cardiff City supporter and loves snooker, darts and horse racing. Tracie loves dog showing and cat showing and has a passion for art.
Both Nigel and Tracie have been around cats and dogs all their lives with Nigel's first cat called Timmy, all black with 4 white paws. When we get very similar looking cats in to stay, you will hear Nigel saying, that one looks a bit like my Timmy.

We are delighted with the support customers have given us in the early days and its really nice to receive positive comments, presents and cards. There is always space on the shelf for the unusual cat ornament, trinket etc from your trips away.
When your cat(s) stay with us, we use a varied selection of foods (Royal Canin, IAMS, Whiskers, Perina One etc) and a vast selection of pouches, clean bedding, toys and wood chip based litter is used (we can also put down other varieties as required).

NOTE: If your cat is on a specific diet then please make sure you bring a sufficient quantity to last for the stay period. Also, if your cat is on a specific high end wet food, then please ensure you provide sufficient amounts.

Clean fresh water is readily available and the pens are heated plus additional heat pads are all provided free of charge within the daily rate.

We have your cats welfare, safety and happiness at the forefront of your stay.
Experience with animals..

Tracie and Nigel have grown up and owned animals for many years, with Tracie being a qualified groomer, exhibitor and owning various breeds of cats including orientals. Nigel, being around cats from an early age and training dogs and some exhibiting also.
It was great for us that Dan, who worked for the previous owners (and previous to that his mother Karen worked at Pets Haven Cattery) agreed to stay on and continues to work part time. Dan and his Mum and Dad have 6 cats of their own, so its a bit like a busmans holiday when he comes in to worl. Dan has a wealth of knowledge, care and experience, we hope we make a great team.
Pets Haven Boarding Cattery is located straight off Jennett Tree Lane in Deblins Green, which is only seconds from the Old Malvern Hills, minutes from Malvern Link and minutes from Worcester and the surrounding villages. We have a car park at the rear of the property, right by the cattery entrance.

How To Find Us
For SAT NAV users, the post code is WR2 4UE.
The cattery has signage on the main 5 bar gate with an easy access car park at the rear of the barn, close to the detached cattery building.
* 4 miles south of Worcester
* Ideally located for Worcester, Malvern and surrounding area's.
* 3 miles from Junction 7 of the M5 Motorway.
* 5 minutes drive from the Three Counties Showground.
For those exhibitors attending the Three Counties Showground can pre-order dog or catfood, which will be ready on collection once you finished showing or visiting the Showground in Malvern.
DAILY BOARDERS
Drop-Off from 7.45am to 7.00pm collection Monday to Friday only, is charged at £12.00 for 1 cat and £20.00 for 2 or 3 cats sharing the same pen from the same household..
Daily Boarders must be pre-booked and paid for in full at time of booking to ensure we have your cats accommodation available and ready for you. This is a non-refundable additional service.
BOARDING YOUR CAT RATES
We charge on a daily rate, not nightly rate. As an example if you want to drop your cat off on a Friday and collect on a Monday, you will be charged for 4 days as the accommodation is yours for the whole day.
We only board cats, sorry no dogs are boarded.
Pets Haven Boarding Cattery
The Barn, Deblins Green, Callow End, Worcester. WR2 4UE.
Open Monday - Saturday 10am to 12pm Midday and 4pm to 6pm.
Sunday and Bank Holidays 10am to 12pm Midday.
By prior arrangement, we can accommodate early or late drop off's / collections outside of these hours by phoning the cattery on 01905 831857.
Please e-mail: nigel@petshaven.co.uk