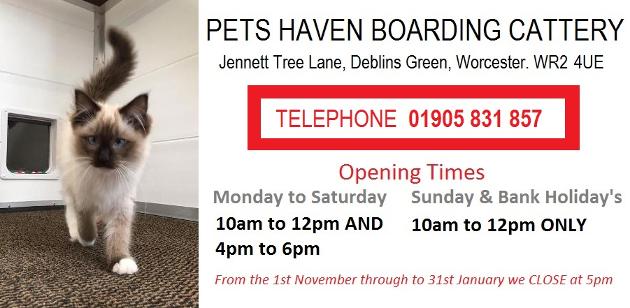 At Pets Haven Boarding Cattery, it's all about your CAT (Cleanliness, Attention and Trust):

Cleaniness - we ensure the accommodation for your cat is cleaned thoroughly before you arrive, with fresh water and clean bedding.
Attention - we will groom (where allowed & accepted), play and give cuddles to your cat and regularly check on your cat(s).
Trust - we welcome any prior arranged inspection and if you would like, we are pleased to What's App you photos of your cats stay.

ESSENTIALS:-
1. All cats must have an up to date vaccination certificate which must be shown at reception before check in. If you are coming to view before booking, most new clients bring along their cats vaccination card so that we can complete all paperwork beforehand.
2. All cats must be flea and wormed with all treatments being up to date.

GOOD TO KNOW:-
In the event where we deem your cat needs a veterinary check and or treatment, we will immediately contact your own vet first and should we be unable to contact your vet (out of hours) or no immediate appointments are available, we shall use our own approved vets at Avenue Veterinary Centre, The Gables, 17 Avenue Road, Malvern, Worcestershire. WR14 3AY. Tel. 01684 572420. We are a full insured cattery, though by boarding your cat with us, you are responsible for ALL veterinary care costs and transportation costs.